Interesting Places to Visit in Bali? Let's Check Out and Read This Fascinating Explanation This Time!
Let's reveal all the mysteries surrounding Nunggalan, Green Bowl, and Nyang Nyang – they are indeed unique destinations below!
Nunggalan Beach: Hidden Paradise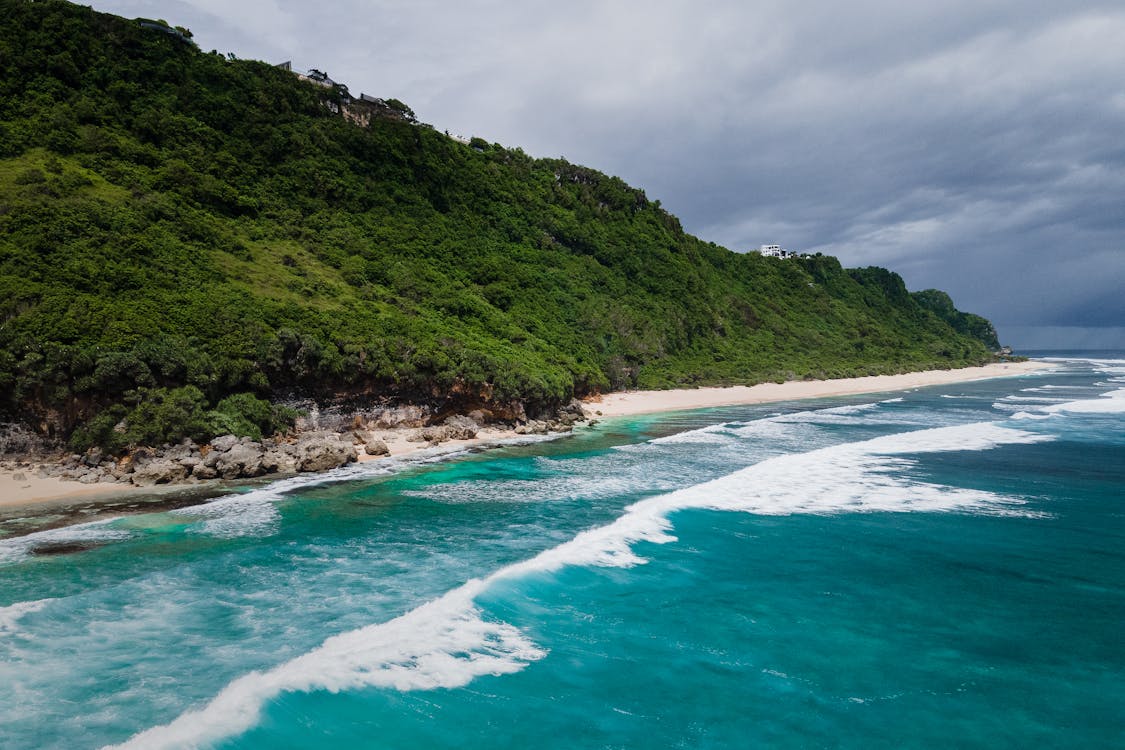 Situated roughly a 30-minute drive from Jimbaran, is a hidden paradise in South Bali. The beach is adorned with sparkling white sand, gentle waves, and beautiful coral. It offers the perfect setting for embracing tranquility and the beauty of nature. Here, you can unwind on the beach, take a refreshing swim in the clear waters, or enjoy a leisurely stroll while being captivated by the breathtaking panorama. There are some activities you can truly do at Nunggalan Beach like :
relaxation, Nunggalan Beach is the perfect place to unwind. You can bring a beach mat, sit back, and enjoy the peaceful atmosphere while taking in the scenery.
Sunbathing, Make the most of Bali's warm sun by sunbathing. Bring a beach towel or beach chair for extra comfort.
Picnicking, Bring a picnic basket with your favorite food. Enjoy your meal against the backdrop of the beautiful beach scenery.
Certainly, at Nunggalan Beach, besides the previous activities, you can also take a Dip in Natural Pools, There are natural pools that form when the tide goes out. You can swim or wade in these, and it feels like having your private pool. Last you can snap Photos near the Shipwreck, The beach features the wreckage of an old ship that makes for a unique backdrop for photos. Don't forget to bring your camera or phone to capture these distinctive moments.
How To reach Nunggalan Beach from Jimbaran? you can follow these directions:
From Jimbaran, head south, following the signs.
Continue the journey until you reach Garuda Wisnu Kencana (GWK), a famous landmark in the area.
After reaching GWK, proceed south toward Pecatu.
As you approach Pecatu, you'll encounter an intersection. Take the right lane leading to Pura Uluwatu.
Keep going until you reach the vicinity of Uluwatu Temple, where you'll find signs directing you to Nunggalan Beach.
Follow these signs carefully, and you'll soon arrive at Nunggalan Beach.
This route will take you to the hidden Nunggalan Beach, which offers truly breathtaking views!
Green Bowl Beach: Hidden Oasis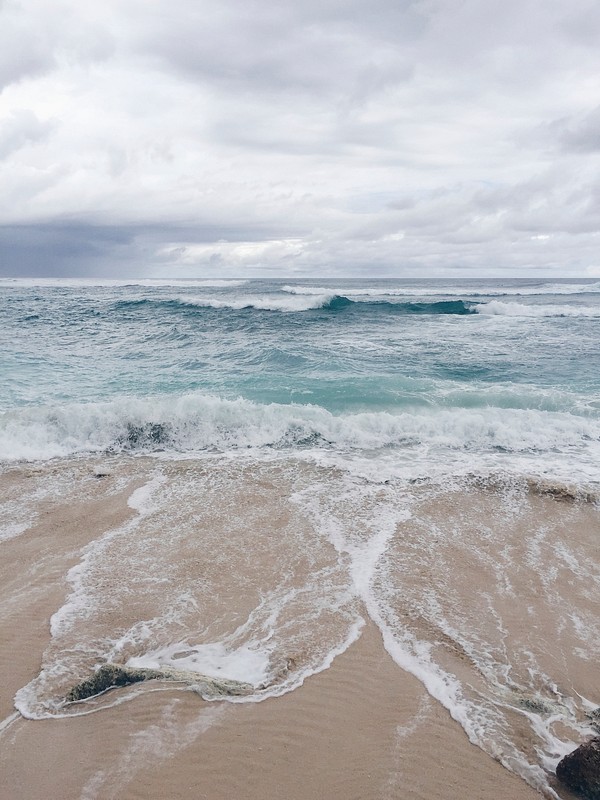 This Beach is like a hidden oasis in Bali. Nestled between cliffs, you'll need to descend about 300 steep steps to get here. But don't worry, the underwater scenery is truly amazing! Green Bowl Beach is renowned for its stunning underwater beauty, making it the perfect spot for snorkeling and diving. You'll find a colorful underwater world and mesmerizing coral reefs. At Green Bowl Beach, there are several enjoyable activities beyond just admiring the scenery, and the top three activities are:
Cave with Hundreds of Bats, Exploring these caves is a unique experience. These bats are usually active at night and can be spotted in the caves during the day. However, be sure to maintain a safe distance and avoid disturbing them.
Ideal for Surfing, Green Bowl Beach is famous for its large waves that are perfect for surfing. It's the perfect place for experienced surfers who want to challenge themselves with thrilling waves.
Secluded and Private Beach Adventure with Stairs, One of the main attractions of Green Bowl Beach is its tranquil, private atmosphere. The beach remains hidden and far from the tourist crowds. To reach the beach, you'll embark on an adventure by climbing hundreds of stairs, adding an exciting element to the experience.
So, if you want to do more than just enjoy the scenery, Green Bowl Beach invites you to try surfing, explore its unique caves with bats, or simply have a picnic. Have a great time at this special spot.
If you want to get to Green Bowl Beach, follow these simple directions:
From Jimbaran or Kuta, head south towards Pura Uluwatu.
After reaching Pura Uluwatu, continue south until you reach a junction leading to Pecatu.
Take the right lane at that junction and continue your journey down the hill.
When you reach the beach, you'll see about 300 steep steps leading to Green Bowl Beach.
Descend these steps carefully, and you'll arrive at the stunning Green Bowl Beach with its mesmerizing underwater beauty.
Remember to bring snorkeling or diving gear if you plan to enjoy the enchanting underwater beauty. Enjoy exploring Green Bowl Beach!
Nyang Nyang Beach: Endless White Sand
This beach boasts an incredibly long stretch of pristine white sand. The journey here might be a bit of an adventure, but once you arrive, you'll discover a vast and secluded beach. One unique feature of Nyang Nyang Beach is The presence of scattered old airplane wreckage around Nyang Nyang Beach is a unique feature, providing a unique and picturesque backdrop for stunning photographs.
Nyang Nyang Beach is also not crowded with visitors, which is beneficial in reducing environmental pollution from litter, food waste, and so on. What's even more delightful is that you can find accommodation options and eateries there to enjoy a meal while taking in the scenery.
Here, several activities that can truly be done at Nyang Nyang Beach have been summarized, but some activities must be performed with full awareness of safety. Let's go straight to the activity points: 
Sunbathing on White Sands, Nyang Nyang Beach offers mesmerizing, expansive white sands. You can bring a beach towel or mat, sunbathe under the warm Bali sun, and experience unparalleled relaxation.
Enjoying the Scenic Views, The beach provides breathtaking natural scenery. With scattered wreckage of an old airplane, you'll have a unique experience.
Captivating Photography, Nyang Nyang Beach is a paradise for photography enthusiasts. The beauty of the natural landscape, white sands, and the scattered old airplane wreckage offer a perfect backdrop for stunning photographs.
Swimming, The beach has strong waves, making it attractive for experienced surfers. However, for non-surfers, swimming might not be recommended due to potentially powerful and dangerous waves. It's advisable to be cautious and avoid swimming if you lack experience.
Confused about how to get to Nyang Nyang Beach? Here are some quick directions:
If you're in Jimbaran or Kuta, head south towards Uluwatu Temple.
Keep going south until you hit a junction that leads to Pecatu.
Take a right at that junction and keep cruising until you reach the Pecatu area.
In Pecatu, you'll spot signs pointing the way to Nyang Nyang Beach.
Follow those signs, and you'll reach Nyang Nyang Beach, where you'll find a huge stretch of white sand and some old airplane wreckage that makes for unique photos.
To reach Nyang Nyang Beach, you can use both two-wheel and four-wheel vehicles. However, access to this beach can be quite challenging and winding. Therefore, it's advisable to use a four-wheel vehicle for a more comfortable and safe journey.
Tips for Visiting Hidden Beaches:
Water and snacks are recommended to be packed since facilities can be limited in these remote places.
Respect the Environment: These beaches are often less crowded, so be a responsible traveler by keeping the beaches clean and respecting the surrounding environment.
Prepare Snorkeling or Diving Gear: If you're visiting Green Bowl, make sure to bring your own snorkeling or diving equipment to fully enjoy the amazing underwater beauty.
All three beaches offer different and mesmerizing experiences. The journey to these destinations may require a bit of effort, but the views and experiences you'll gain are definitely worth it. So, be sure to set aside time to explore Nunggalan, Green Bowl, and Nyang Nyang when visiting South Bali.